Scholarships at GJU
Welcome to the scholarship section of the International Office. On the following pages, you will find all information on current calls for non-GJU scholarship applications, as well as on our regular GJU scholarship programs. For questions and suggestions, please refer to the contact person stated below. For specific inquiries concerning for the different programs, please contact the responsible coordinators.
Contact Person
Main Campus (Madaba)
Ms. Lisa Krimphove, Scholarship Coordination
Building B, Office 117
Current Information on Scholarship Programs
Last updated: 03.12.2020
---
Disclaimer: All information below are subject to change. No guarantees for their correctness are given.
***Save the Date***
The International Office of German-Jordanian University kindly invites you to the Questions&Answers Online-Session about the International Parliamentary Scholarship. 
The meeting will be held mostly in English.
When: Wednesday, January 13th , 12  pm (Jordanian-time)
Where: Webex-Online Meeting
How: 1. Subscribe to scholarship.coordinator@gju.edu.jo We are happy to receive questions before the meeting.
          2. You will receive a link sent to your email before the sessions starts.
----------------------------------------------------------------------------------------------------------------------------------------------
Orange Knowledge Programme
The Orange Knowledge Programme aims to contribute to a society's sustainable and inclusive development. Its scholarships are open to mid-career professionals in specific countries.
Applications are open to mid-career professionals from now until Tuesday the 5th of January 2021. This call is open for Short Course scholarships only. Please do spread the word to anyone potentially interested in applying. Applicants can find all the information they need on: https://www.studyinholland.nl/finances/orange-knowledge-programme.
-------------------------------------------------------------------------------------------------------------------------------------------

PITCH YOUR IDEA IN BERLIN, FUND YOUR PROJECT AND CONTRIBUTE TO CHANGE IN THE MENA REGION!
What comes to your mind when you read Rethink Politics in MENA? Keep in mind that this is where your role comes in. Think about it…
Is it threats against democracy? Gaps in the health and education systems? Possibly market and economic deficiencies? Or maybe threats against development? To you, it is perhaps all of them, or perhaps it is none. Regardless, now you need to leave the passenger seat, get behind the steering wheel and drive change. Make the change you want to see in the MENA region!
iValues is (in a nutshell) your license to drive change in the MENA region through #InnovatingPolitics. It is an extensive channel to think freely and to create. To question. To experience. To innovate. We cherish openness, new ideas and innovation. I am sure you have this one thought in the back of your mind. Challenge yourself. Let it out. iValues is the place for it. Click here to continue reading.
Join the #InnovatingPolitics Community to stay in touch and learn more about iValues!

The Innovation in Politics Institute aspires to build a new kind of political training and development, that leverages network effects, enables more self-directed learning, and is radically more practical.

It is an invitation to co-create prototypes that empower leaders in the political sphere to master the challenges of tomorrow, today.

To learn more about POLIS, an initiative by the Innovation in Politics Institute click here.

NOW THAT YOU ARE HOOKED, LET US RECAP THE COMPETITION. FIND A WAY TO GET INVOLVED!

 

 
The iValues competition is an opportunity to connect innovators, civil society activists, start-ups, and (social) entrepreneurs to policy makers from the MENA Region and Europe, and a chance to support the transnational and emerging civil society in influencing and/or contributing to the process of policy design in a post-pandemic era.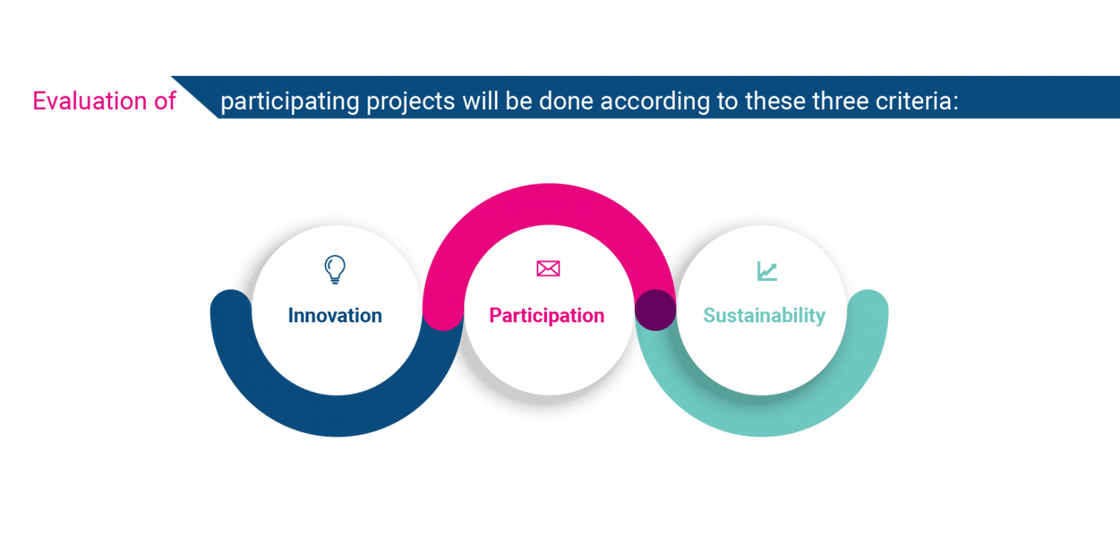 Engage in iValues! 
--------------------------------------------------------------------------------------------------------
The KIOS Research and Innovation Center of Excellence of the University of Cyprus
---
Marie Sklodowska-Curie Fellowship Programme: Applications Now Open
25.08.2020
The application process has opened for female students interested in applying for a scholarship from the IAEA Marie Sklodowska-Curie Fellowship Programme (MSCFP) towards their Master's degrees in nuclear science and technology, nuclear safety and security or non-proliferation. The fellowship will provide scholarships for up to 100 selected applicants annually, to help enhance the pool of qualified young women in the nuclear field. It also aims to support an inclusive workforce of both men and women for the future, contributing to global scientific and technological innovation from all over the world as diversity gives the opportunity to greater creativity and productivity. Candidates have until midnight on 11 October 2020 to apply for the first 100 scholarships.
More information about the scholarships can be found here 
---
A full-time PhD Student Scholarship opportunity for Jordanian nationality or citizenship

19.05.2020
The KIOS Research and Innovation Center of Excellence (KIOS CoE) of the University of Cyprus, announces one full-time PhD Student Scholarship to individuals with Jordanian nationality or citizenship. The KIOS CoE operates within the University of Cyprus, in collaboration with Imperial College London.
The selected student will be enrolled in either the Electrical Engineering or the Computer Engineering PhD program of the University of Cyprus and will conduct her/his research at the facilities of the KIOS Center of Excellence, within the University of Cyprus in Nicosia, Cyprus. The thematic areas of the KIOS Center of Excellence include: Control systems, computational intelligence and machine learning, autonomous systems, optimization, networks, embedded and real-time systems hardware and software, fault diagnosis, cyber-security, reliability, resiliency and fault tolerance, cyber-physical systems, Internet of Things, dependable integrated systems, intelligent transportation systems, water networks, power and energy systems, and telecommunication networks. Motivated candidates with strong mathematical and/or algorithm development backgrounds are strongly encouraged to apply.
For more information about Duties and Responsibilities, Qualifications and Application see the following poster.
All applications should be submitted by Thursday, 10th September 2020.
 
MS in Business Analytics, MS in Finance Scholarships
21.04.2020
We would like to inform you about scholarship/internship programs by corporate donors at Central European University, as these could be interesting for Bachelor's students looking for Master's programs.
There will be 10-15 awards, for candidates for our full-time MS in Business Analytics and MS in Finance programs for 2020-2021:
Thanks to a generous new donation from BlackRock we have reopened applications for all three programs:
- Future of Big Data: Offered by a London boutique investment firm; up to 100% scholarship, mentoring, a possible internship in London
- Morgan Stanley: Paid internship possibly leading to a full-time job, up to 60% scholarship
- Women in Technology: Offered by BlackRock; up to 100% scholarship, mentoring, possible internship leading to a full-time job.

Application period for Green Talents award 2020 now open
13.04.2020
are you an up-and-coming researcher with ground-breaking visions to create a better and more sustainable future for all? Is your research dedicated to realize the United Nations Sustainable Development Goals (SDGs)? Do you have the potential to change the world?
Green Talents – International Forum for High Potentials in Sustainable Development invites you as a pioneering scientist to apply with your trailblazing approach! Showcase your research to the broader public, exchange with outstanding experts, and lay the foundation for long-lasting collaborations with German research institutions.
The Green Talents award 2020 includes
an invitation to the fully funded two-week Science Forum in October 2020, consisting of
visits to leading German sustainability facilities, institutions and companies with exclusive insights into their leading-edge research and projects,
individual appointments with German experts of your choice to discuss possibilities for upcoming joint research and cooperation efforts,
networking opportunities at the award ceremony in Berlin with participating Green Talents alumni,
a fully funded research stay of up to three months at an institution of your choice in Germany in2021,
exclusive access to the distinguished Green Talents alumni network.
 
Further information
The Green Talents programme has been hosted by the German Federal Ministry of Education and Research since 2009. It is held under the patronage of the German Minister of Education and Research, Ms Anja Karliczek. Honouring 25 young international researchers each year, the initiative has successfully fostered the global exchange of innovative green ideas within the field of sustainability. To this day, 257 outstanding scientists from 69 countries have been awarded for their tremendous achievements to making their communities, countries and societies more sustainable.
Eligible to apply are master students, PhD students, postdocs, as well as young professionals, with no more than three years of professional work experience.
(excluding professional work experiences gained within the scope of an academic degree) and a strong focus on sustainable development. Applicants must prove excellent command of English and above-average grades. Furthermore, only applications from non-German citizens or residents can be considered.
For more information please refer to www.greentalents.de where both the competition flyer and the announcement ,(Arabic version), as well as the award trailer, are accessible and follow us on Twitter and LinkedIn.
Deadline for submission: 19 May 2020, 2 p.m. CEST.
Please note: Due to the current situation regarding the COVID-19 pandemic, changes may occur on short notice. Please check our website www.greentalents.de regularly for the latest updates.
---
Cross Culture Fellowship Program 2020 - Call for Application
03.03.2020
We are happy to inform you that our call for "CrossCulture Synergy – Networking Civil Societies" is now open!
With its CrossCulture Programme (CCP), ifa (Institut für Auslandsbeziehungen) is working in partnership with the Federal Foreign Office to build strong civil society networks between Germany and the world. Since 2005, young professionals from the fields of culture, education, science, arts and media have benefited from the opportunities provided by work-related stays either in Germany or in CCP partner countries.
CCP Synergy programme supports civil society organisations from Germany and from a partner country of the CrossCulture Programme to work together on a joint initiative and create lasting networks.
Funding for short stays, from 7 to 30 days, is provided for two cooperating organisations.  Aims of the cooperation can be the development and the expansion of joint initiatives, projects, publications or events.
In case of a successful application, the joint initiative will receive a grant of 4,500 euros (i.e., 2,250 euros for each participating organisation). 
To apply, please fill out and submit both the application form and the calculation of costs, to crossculture(at)ifa.de. Please use our corresponding forms; otherwise your application might not be taken into consideration.
For more information please visit: https://www.ifa.de/en/fundings/ccp-synergy/
Should you have any further queries, do not hesitate to contact us at: crossculture(at)ifa.de.
Application deadline for CCP Synergy 2020 is 22 March
Scholarships for Study and Research in Germany
Closing date for applications: April 26th, 2020
The Konrad Adenauer Stiftung awards scholarships to international students of the MENA region to study at one of the over 400 universities in Germany. The scholarship program is aimed at international students and graduates who have acquired a university degree and who intend to complete postgraduate or master studies, doctoral studies or a research fellowship of at least three semesters at a university in Germany.
The standard funding periods are two years (Master) respectively three years (PhD). Apart from the monthly scholarship (for Master students 850 Euro per month, for PhD students 1.200 Euro per month) our scholars obtain access to a worldwide network of over 14.000 alumni, a broad seminar program and personal mentoring.
  Interested?
           For more info please visit the below website or see necessary documents:
           https://www.kas.de/en/web/jordanien/static-contents-detail/-/content/faq-1
 Please send your complete application by April 26th, 2020 to:
 Contact: Stipendien.MENA@kas.de
---
Short term study grants in the German State of North Rhine-Westphalia for students from the Hashemite Kingdom of Jordan Call 2020

The government of the German State of North Rhine-Westphalia decided again to continue with the scholarship program for students from the Hashemite Kingdom of Jordan in 2020. This program is now offered in its 11th year! It has become a success story in the last years. Till now more than 60 students from selected Jordanian Universities came to North Rhine-Westphalia.
The program is being implemented by the Heinrich-Heine-University Düsseldorf, who works on behalf of the state government of NRW as the program coordination office.
The program offers short-term scholarships for students in master degree and Ph.D. programs from selected Jordanian universities wishing to pursue studies and research in NRW.
Studies are offered amongst others in the following fields:
- Chemistry, Information and Social Sciences;
- Medicine and Life Sciences;
- Engineering and Architecture, Physics.
Please read carefully the  following documents ;
Please be aware of the deadline for application: 29 February 2020! 
---
GERMAN LANGUAGE SUMMER COURSE SCHOLARSHIPS 2018
New information will be available around May 2020.
---
CALL FOR APPLICATIONS - ERASMUS +
The application phase for the ERASMUS+ International Credit Mobility program for the summer semester 2020 is over and we congratulate all nominated students! The next application phase will start approximately in February 2020. The Erasmus+ program provides GJU undergraduate students the opportunity to spend one semester  at one of our partner universities. The program supports you with a monthly scholarship that covers living expenses as well as a travel allowance.
---
GERMAN YEAR SCHOLARSHIPS
No application needed. Scholarship recipients are informed approximately 1-2 months
after the start of their German Year. Click here for more information.